Top Current trends in teaching ESL 
Do you want to know?
Find our Upcoming Batches of TEFL Course :-
| Batch | Mode | Price | To Enrol |
| --- | --- | --- | --- |
| Starts Every Week | Live Virtual Classroom | 26500 | |
We will tell you
Read on!
Teaching English as a secondary language is a big challenge. It doesn't matter what your background and experience level is. Like teaching other subjects, you will realize that every student learns differently. But with some work, you will be able to gain skills that will be required in teaching ESL. First of all, we should know what a trend is. A trend is a general tendency or direction toward change over the years especially.  
1. Change the Goal of Teaching English 
We have to focus on English as a means of communication instead of becoming a native speaker of English. So, we have to work basically on content learning. Like, science and mathematics. We have to make students learn both content and English. This will help in teaching ESL as a second language.
2. Early Start in Teaching English
We should start teaching English in earlier grades like K.G. Because, in earlier grades, students can learn fast. For example, since 2011, Vietnam and Saudi Arabia have started teaching from grade 4.In Dubai English is introduced from K.G.Japan has also introduced English in the primary stage. This encourages teaching ESL as a second language.
Also, Read This:- 10 Facts you should know about TEFL Course and Teaching ESL
3. Change in Teaching Culture
There is less focus on teaching the cultures of English. Both the local or international culture dominates in teaching English classes.
4. Changing View of English Teacher 
It has been noticed that their teaching and linguistics determine teachers' effectiveness rather than being a native speaker of English.
5. Change in Teaching Content and Text Design
Teachers use a range of descriptive texts in the classrooms. The use of the English language, as well as the use of various accents in texts or listening activities, encourages English learning.
6. E-Learning
E-books should be introduced for learning because this is a digital era. Everyone is having a smartphone and a tablet. So, if E-Books are introduced, it will be of great help. Access to knowledge in terms of flexibility has changed.Ebooks also help teach ESL as a secondary language.
7. Strategic Teaching and Learning 
Teaching in English language classes focuses on language content, outcomes, and learning activities. There should be significant student teachers' interactions outside and inside the classrooms.
8. Teachers as Life-Long Learners
Now, these days teachers are involved in getting a lot of training because everything keeps on changing. To be employable and remain competitive, teachers are involved in technical training. Like other careers or professions, teachers should keep themselves learning and developing their knowledge and skills. By developing these skills teaching ESL will be more comfortable.
9. Teaching Through Conversations and Role-Play
A lot of changes have to be made in the teaching method. As teaching is student-centric, so involvement of the students is required. Teachers should give them specific tasks and involve them in certain conversations. They should also be given role-play to prevent stage fear, which is very common in students.
10. Teaching Through Summarizing and Evaluation 
If a teacher is continuously teaching in the class without asking questions and without students' involvement, it creates monotony in the class. So, student participation is significant. The teacher should ask questions at the end of the class and summarize whatever he has taught in a few minutes. He has to clear all the doubts. This will help teach ESL as a secondary language.
11. Teaching With a Sense of Humor 
Teachers should teach in the class with a sense of humor. They should create a friendly atmosphere in the class. Students always feel comfortable when the teacher is friendly in the class. They feel free to ask any questions. The teacher should not be very serious in class. They should balance between seriousness and a sense of humor.
12. Teaching Language Through Literature 
Most of the students are good at technical English, but they are not in general English. Learning Language through literature, reviews, dictionary, discussions, and analysis helps the students to improve their communication skills. So, the teachers should encourage the students to read novels, books, essays to improve their skills. Teaching through literature also helps in teaching ESL English as a second language.
13. Teaching Through Games 
Teaching through games is one of the best methods to teach students. Teachers should include games like puzzles, vocabulary games, and jumbled words. The teachers should conduct quiz competitions in the class. The quiz competitions should be on synonyms, antonyms, idioms, and a one-word answer. This will increase the interest of the students.
Also Read: Teach English in France
14. Teaching Grammar Through Inductive Method
Grammar plays a vital role in teaching. Teachers should teach them from a learning point of view, not an examination point of view. Grammar is also very important in writing the sentence as well as learning it correctly. In the inductive method, the examples are given first, and then the rules are described. He first gives the students examples and asks the students to frame their own sentences. So, this method is one of the best methods to teach English grammar. This will be very helpful in teaching ESL English as a Second Language. 
15. Blended Learning
As now these days, teaching methods have been changing fastly, the teachers use modern technologies for teaching. We can see it now due to COVID -19, the school's colleges are closed, and students are learning online. Online teaching is purely technical, blended with teaching and information. Now, these days digital teaching is on-trend. For teachers who want to enhance their teaching skills, one practical activity is their Lindsay Clanfield and Jill Hadfield's interaction online creative activities blended learning.
16. Mobile Learning
Now, these days mobile app or mobile-friendly version is more accessible by the people or students.
 Wordable Turns vocabulary learning into fun, competitive games that you can play with your friends.
 Essential English provides free resources for teachers and students, including lesson plans, flashcards, and phrasebooks.
Trio Pro English Website and Mobile Apps helps learners to practice through their high-quality recordings. It is also divided into questions and answers.
Also read: Teach English In Spain.
1

7. Gamification
Certain learning apps use games to teach LearnMatch, which uses training sessions, leagues, friendly matches to make vocabulary learn.
Get set! Phonics uses songs, games, and rhymes to develop awareness in children.
These learning apps also helps in teaching ESL English as a secondary language.
18. Embodied Learning
Embodied learning is based on the idea that learning involves using mind and body collaboration. It is not based on just remembering. Learners should be physically, socially, and emotionally engaged. Courses like Doodle Town use audio, video, and hands-on activities to inspire children learning. It also stimulates the young learners to draw and to be creative. Orbit also stimulates young learners through stories.
 19. Inquiry-Based Learning
Inquiry-based learning means learning in a complex world. Courses like Fast Track and Wider World use good audio and video content to bring real-world experiences to young learners. They also encourage the students to use soft skills. Perspectives use real-life stories to motivate children.
 Teaching Grammar from Rules to Reasons Teachers and Learners discovers how speakers use grammar in the real world. 
20. English as a Lingua France
When the concept of Lingua Franca was discussed, many teachers, writers, and trainers have objections. It was controversial. Today we see resource materials like PronPack is taking an approach to increased intelligence. Using gamification and blended learning, this pronunciation course doesn't help the learners to distinguish between British English or American English but prepares the learners to use English globally. By using gamification also helps in teaching ESL English as a secondary language.
Must Check US Ranked No. 1 TEFL Certification Course Online
21. Multiliteracies and Trans-Languaging
English is considered as a common language for communication all around the world.
But, the teachers are encouraging the students to use their communication languages. This requires social skills. There are also some courses like Family Skills Toolkit that encourages parents and children the benefits of bilingualism.
22. Supporting Learners Of Specific Needs 
Learning English: English for Health and social care workers provides knowledge of policies and procedures in the medical industry. Legal English uses online quiz and learning materials. It is also the world's first legal English podcast.
Trend 23: Creating and Sharing Content
Is there already a lot of online content available for young learners to learn and explore? On the other hand, some apps allow learners to make their content. Some popular sites like Quizizz and Socrative allow both teachers and students to create online games shared by users worldwide. Websites like Canva allow teachers and young learners to express their creativity through memes, banners, and social media. Then there are moviemaking sites, editing sites,comic-strip creation. Brick by Brick is one course for young learners that creates hands-on projects as they learn.
 23. Learning and Teaching Management Platforms
Learning and management programs like Edmodo are extremely popular. They give learners to continue classroom discussions and submit the homework. Now, due to Covid-19 online platforms are in huge demand. They are used to discuss with parents and help in managing lesson plans and materials.
The Royal ABC program for 4 to 6 years old comes with a teacher platform that allows teachers to manage complete administration, schedule homework, and send reports to parents. Due to this, teachers can spend more time with their kids. These tools are new and shiny, so they give an appeal. The real value is how much it can benefit a learner in learning English in the most efficient and motivating ways. These programs also help in teaching ESL English as a secondary language.
English language teaching has undergone a lot of changes over the past years. Many career alternatives that were regarded as insignificant are gaining importance like soft skills, technical skills, etc. For this, a change in the trends teaching-learning process should be introduced for its betterment. Today technology has become very fast.
We can see technology in every corner of our life, such as movies, games, etc. It has become an essential source of entertainment. The internet provides excellent opportunities for entertainment. Technology serves as a major purpose that is communication. By this method of teaching ESL English as a second language will become easy.
What is ESL?
The design of an ESL program helps students who want to learn English as a second language. Schools generally use the term ESL for students who are not native speakers.ESL teachers help in instructing the students in writing, reading, and conversing, and job-oriented communication skills. Generally, the students enroll in this program to use this program in school, work, and study abroad.
Also Read This:- WHAT IS EFL? HOW DOES EFL DIFFER FROM ESL?
Online ESL Learning Program
Online learning programs are when the classes are conducted through virtual classrooms instead of the traditional modes of teaching. Classes are conducted on a computer. Online ESL uses a particular website for teaching. This is commonplace where the teachers and students access learning materials and system support.
Comparison between Online ESL and Offline Teaching
Online classes,

teachers conduct normally

on skype.

 The classes are based on the student's preference and are conducted online. Tutors can take the classes when they are free

. It also helps the students to learn and speak English through study materials.
Offline Classes 
Offline, classes are conducted in classrooms with face-to-face interaction of teachers and students with pencil and paper.

Classes are conducted regularly

Students generally live near the school.

Teachers lead their classes by giving lectures to the students.
What is

 TEFL?
TEFL is Teaching English in a foreign Language. Henry Harvin offers a TEFL certificate ranked #1 in TEFL teaching. Henry Harvin offers 120 hours of learning certified TEFL 
You can also visit henry Harvin TEFL academy for TEFL course.
Also, Read This:
An ESL Teacher Job
An ESL teacher provides support to students who are learning English as a second language. ESL teachers use real-life examples to teach students. ESL teachers must be creative, sensitive, and adaptable to the cultural differences while teaching the students. In the schools or the educational institutes, ESL teachers work from grades KG to 12.
Also, Read This:- How to Build A Career in ESL: Qualifications, TEFL Certification and TEFL Job Opportunities
A common task for ESL teachers
The ESL teachers plan and deliver the lesson plans based on students' strengths, weaknesses, and progress. They should make lesson plans based on the needs of the students. ESL teachers should be proficient in computers and technology because of the increasing use of technology in the classroom. These tasks will make teaching ESL English as a secondary language easy.
How to Become an ESL teacher
To become an ESL teacher, teachers must have a bachelor's degree in English and an ESL teaching certificate.
There are also some tips in ESL teaching, which will make both teaching and learning easy.
Also, Read This:- A Career in ESL: A Complete Guide For 2023
Tips On ESL Teaching
1. Incorporate Group Work 
Learning a foreign language for the students is a daunting task for them. To make the students practice and feel comfortable, you should give them some tasks based on the groups. Lessons will become fun and exciting when the students will learn with their peers.
2. Oral Communication
You should make sure that you focus on oral activities in the class. Reading and writing are essential, but on the other hand, speaking in the classroom is also important.
3. Use a Diverse Lesson Plan
ESL students might come from different backgrounds. As in classroom learning, each student learns differently. So, we have to focus on it accordingly. Mix reading, writing, and focus on comprehensive lesson plans.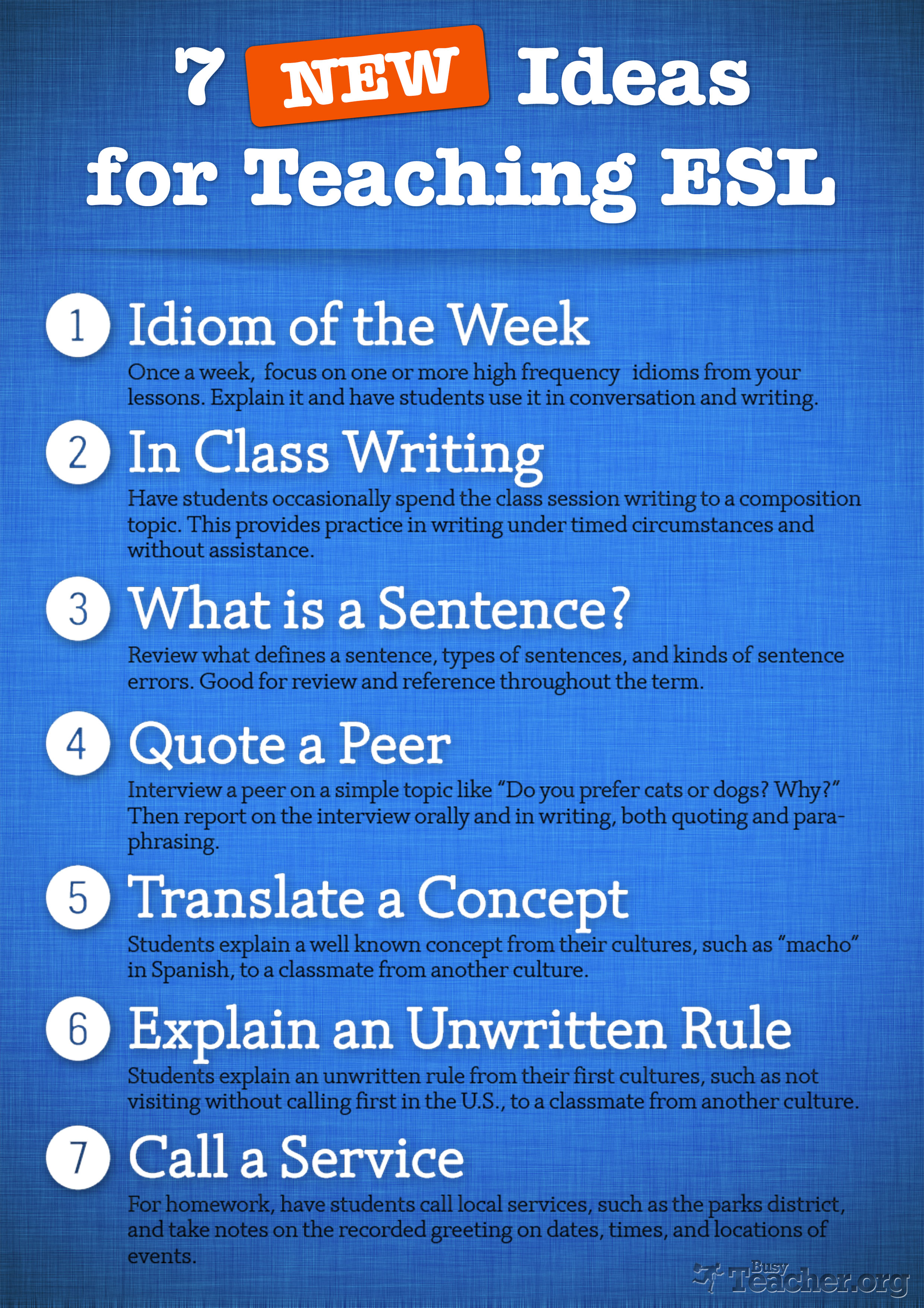 4. Incorporate cultural lessons
Always use their experiences to teach their language. For this, you have to give them some work to do. You can ask them about what they did on the weekends. What their family is like.Anything which leads them to think and make related words. Also, ensure that you teach them according to their culture. These will help in teaching ESL English as a secondary language.
5.

Limit Dictionary use
Ask the students to minimize the use of the dictionary. Ask the students to memorize and phrase the words. Make sure that the whole class shows their involvement in this, so, the learning becomes fun.
6. Give Home-works
After the class, give homework to the students to keep them engaged. They also get a lot of practice from the lessons taught in the class.
7. Try Tongue Twisters
Use Tongue twisters in the class to make a fun-filled environment. This will also boost their pronunciation and help them to learn in a fun-filled way.
8. Have students Read Aloud
Your students should practice reading aloud. This is a great way to blend oral, reading, and auditory skills. It will also help them to speak confidently in front of their peers.
9. Let the students make mistakes 
Let your students work through their mistakes. Give them a lot of writing work and allow them to read, write and read aloud in the front of the class and make mistakes because if they are making mistakes, they will know they are progressing.
10. Teach By Doing
The best way to teach English as a Second Language is to make a lesson plan. Tell the students to read aloud in the class. Give them a lot of reading and writing works. Tell them to read stories. Making perfect lesson plans will help a lot in teaching the students. These will help in teaching ESL English as a secondary language.
Also, Read This:- 10+10 Successful ESL Innovative Teaching Strategies in 2023
FAQs
1. What is an ESL learning program?
An ESL program is a coursework designed to help students who learn English as a second language. The ESL program is online and offline (classroom sessions).
2. What do you mean by E-Learning?
Today the use of the internet and smartphones has increased. The learning methods have also changed. It is believed that after a few days, the books will disappear. Access to knowledge has been changed.
3. What is the changing view of an English Teacher?
It is recognized that the quality of the English teachers is determined by their linguistic teaching and intercultural competence rather than being a native speaker of English.
4. What is Blended learning?
As nowadays, teachers combine digital media with traditional teaching methods, and their course materials and materials also reflect the trend. The combined Pre-Sessional Course Offered by King's college combines face to face teaching and learning. This is blended learning.
5. What do you mean by an Early start in teaching English?
Many schools have introduced English at an early age. In Japan, teachers introduce English in primary grades. In the U.A.E also teachers introduce English in the K.G instead of a grade. When English is started at an early age, it becomes easier for kids to learn.
Summary
We all know that technology plays a significant role in the teaching and learning process. Technological innovations are a part of education. Only the innovations which have solid teachings will stand with time. As nowadays, teachers combine digital media with more forms of teaching. There are a lot of online teaching resources also available. As we all know that there are lots of mobile-friendly apps available. These apps can be a great form of learning. Wordable turns vocabulary learning into fun.
English Essentials uses mobile technology to provide free resources for teachers and students. then get set Go! Uses chants, rhymes, and songs to develop preschool children's awareness.
Embodied learning is also based on the idea that learning is not just remembering.
It involves both mind and body. Learners need to be physically and intellectually engaged.
Doodle Town uses audio, video, and hands-on activities to stimulate and inspire learning. It also motivates young learners to create and draw.
In global communities where English is a universal language of communication, knowledge of other languages is very important.
Legal English is the world's first legal Podcast- It includes online learning materials and quizzes for learning.
While there is a lot of online content available for learners, there are some apps that allow them to produce content. Some are Quizizz and socrative. Both of these allow teachers and students to create online games and to share around the world. Some websites like Canva allow teachers and students to express their creativity through posters.
Now, online platforms are also used to communicate with parents. It also helps to manage lesson plans. The Royal ABC program for 4-6 years old allows the teachers to manage lesson plans and send homework because of these. The teachers can spend a little more time with toddlers. These tools are shiny and new and are of great appeal.
The real value of the innovations lies in how much they can help learners learn and communicate better in English.
Also Check this Video
Recommended Read:
– What is TEFL Certification
– Top 10 TEFL Certification Program in 2021
– Top 15 Free TEFL Certification Courses in 2021
– Top 50 Best TEFL Certification Courses
– TEFL Vs. TESOL
Recommended Programs
120-hours TEFL / TESOL
Online Certification Course
Lifetime Access*
Ranked No. 1 Course | 100% interview guaranteed | Live Online Instructor-led TEFL Training & Certification | AAEFL Certified TEFL Course | Qualify for 12,000+ jobs from 6+ countries | With over 100,000 English teaching positions opening every year, immerse into the market of 2 Billion English learners today.
TEFL Certification Online
Course in USA
Lifetime Access*
Ranked No. 1 TEFL Certification Course in USA | 100% Interview Guaranteed | Online Certification course in USA | instructor-led training and certification program of TEFL | Qualify for 12000+ jobs from 6+ countries.
Post Graduate Program
in TEFL
Lifetime Access*
Ranked No. 1 Course | 100% interview guaranteed | Live Online Instructor-led Post Graduate TEFL Training & Certification | AAEFL Certified Post Graduate Program in TEFL | Qualify for 12,000+ jobs from 6+ countries | With over 100,000 English teaching positions opening every year, immerse into the market of 2 Billion English learners today.
Explore Popular Category
Recommended videos for you