Figures prove that MacOS is around 10 per cent of the global market for computer operating systems.
The ability of very well-designed Mac machine models to run web-based software, however, has now rendered it a popular project management global business desktop.
Web developers, creative people and developers who are mostly Mac users see the importance and benefits about using a project management software, especially simple web apps. Online PM tools are truly helpful cross-platform so it works on different environments such as MacOS, iOS, Windows, Android, etc.
PM methods deliver two big advantages:
It organizes its jobs, clients, money, schedules, etc.
It helps them to schedule and break projects into simple, manageable tasks
Top 10 Management Tools for Mac
Number of people in work who prefer to work on a Mac and opt for decent project management software can check for both the following PM tools in the brief feedback below.
Most have the core features of project management, but most go beyond time and task management.
Monday.com
Monday.com is a team management tool that helps you to schedule tasks, coordinate the work and track progress. It is a highly visual sharing network with an intuitive and user-friendlyinterface. It'll take only a few minutes to get the team onboard and going.
Monday.com includes important browsers, and has a desktop app for Mac and Windows. Monday 's latest Mac desktop edition is release 0.1.54.
Software offers at monday.com
Templates available: Quickly start working and choose from a variety of use cases
Interface intuitive: Friendly to use, with components that can be customized
Resources for teamwork and organization: Tools for teamwork and organization: It has incorporated contact and knowledge management software
Multiple views: Use your preferred view to plan your project and track the tasks.
Benefits by monday.com
Best to run and use, to get the group onboard fast.
Software customizable so it fits your needs and processes.
One central tool for communicating, collaborating and managing films.
More views start giving you various perspectives, so you can either see the big picture or go as described as you want.
Monday.com fosters best practices for promoting transparency, accountability and effectiveness.
Smartsheet
In a simple and familiar worksheet interface, smartsheet is a web-based project communication and implementation tool. It's easy to use and very versatile, but it's also a software of business grade that has improved team efficiency in tens of thousands of businesses and companies around the globe.
Features of Smartsheet Software
Multiple views: availability of the teams, timelines, Gantt chart, calendar, view of cards
Automated tools: Alerts, reminders from email and web forms
Family interface: Spreadsheet-like UI lacks a steep learning curve
Simple to start: Pre-constructed templates help you jump various types of projects
Smartsheet Advantages
A familiar interface does not take time to train employees but will encourage them to hit the running field.
SaaS price structure is not capital-intensive, and is easy to scale when growing in the size of companies.
Online collaboration and integration facilitate communications and partnerships with others.
Enterprise customers are given free email support and primary concern phone support.
Wrike
Wrike is an online system for project management which helps users manage their ventures from the original request to publish the end result.
It is an end-to-end solution that enables developers to develop and assign tasks, to create workflows, to visibly monitor progress, to coordinate resources, and report production.
Members of the team also get a good image of objectives, access all tasks, the information in real-time about the work, edit, edit and share documents, and track time.
Features of Wrike
Task, Project and Process Management: Designing work assignments, assigning work resources and gaining immediate and direct contact with tools such as @mentions.
Email cohesion, custom runtime environments: developers can access and engage in all updates from their email inbox, and sync them. They can add custom fields and adjust the dashboards to different views.
Modern Smartphone Applications, Third-Party Integrations: Wrike has modern iOS and Android devices to get away from office working. It integrates with other apps to allow teams to expand features and work with various tools including an API for all forms of work.
Wrike Advantages
Allows project managers to set goals easily, and align managers with critical direction, task views, resources like Gantt map.
Computerized forms, proofing, and approval coordinate smoothly and work for people across the company.
Roles of users and permissions to share maintains data confidentiality while reducing duplication and duplication.
Web-based application offers all users real-time exposure simply by visiting a central location. The unified structure also ensures transparency and accountability.
Mavenlink Benefits
User-driven architecture makes the onboarding of new team members simple and painless.
Interface with Salesforce, Jira, QuickBooks, google products and others. It also has custom built-in API.
Web-based application involves no download or maintenance but provides the latest features with automatic updates.
Microsoft On-line Project
MS design was created in 1984 by Microsoft, and the tool developed throughout the last 3 decades. The new edition is Project 2019.
Features with Ms Microsoft project
Improved device: The process improvement tool has been done easily to navigate and use.
Auto finish: It has become easy to fill the repetitive details.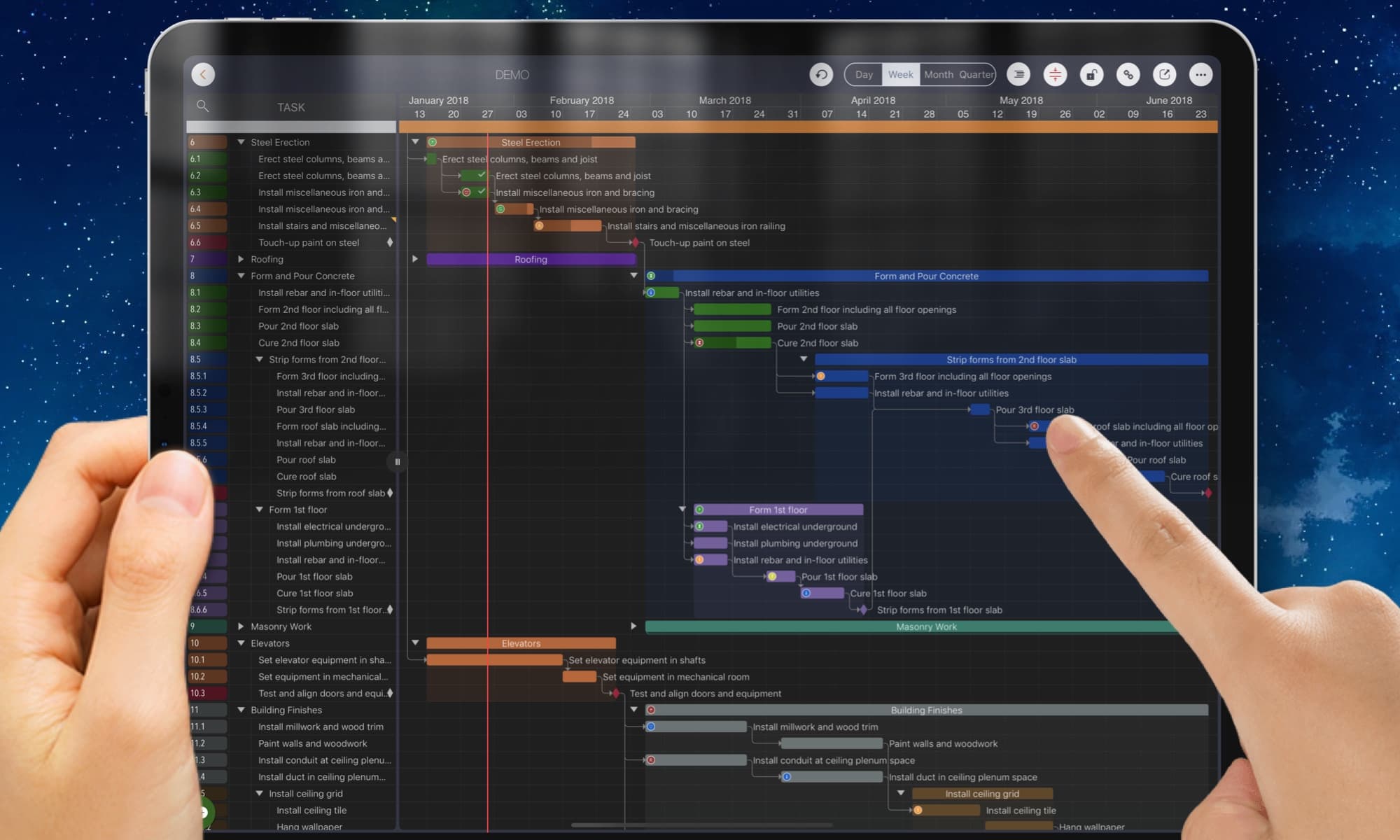 Merlin-Merlin
Merlin is one of Mac OS X's leading project management tools. Project Wizards developed the software and it is renowned for its collaborative options. Merlin is split into four products: Plan, Go, Server and Project Express.
Merlin Software Functions
Management of projects: Projects can be designed and handled to the very last level. All projects are highlighted in the form of a hierarchical structure, and on the hierarchy every other component of the study has its own place.
It is now equipped with Kanban boards mostly for agile project management.
Resource Management: All the amount of work assigned to each team member, along with all the funds devoted, are computed and represented in bar chart form. The new feature Resource Pool allows the user to monitor the level of project consumption.
Merlin's further features include:
Kanban, combining, Resource Pool To do List
Graphs, charts, charts
Network buddy
Merlin Benefits
Merlin Project can export and imports project data, combine with many applications and also connect via AppleScript to other applications.
One can schedule and execute projects to the very last level.
The program shows resource usage so that allocation of resources and work becomes simple.
Tutorials for each feature are available and the functions are easy to use.
OmniPlan 7
OmniPlan is a popular application in project management formed by The Omni Group. It's usable from the App Store for $149.99 for the Mac, and $74.99 for iOS. Software 3 is now available for iOS 11.
Functions Software
It has very much all the traditional features of application project management.
Charts and Graphs: Supports all types of charts and graphs, and can produce reports in different formats.
Starting from scratch: tasks can be scheduled from scratch and managed by simply using this software solution until finalization.
Other features: The introduction of the new features include drag-and – drop guidance, touch bar, dark mode, catch-up, and keyboard support.
OmniPlan Advantages
Support files with MS Project. Files may be exported to MS Project and imported.
Projects can be exported to a whole range of formats.
Has a tutorial coming. Tutorials can also be found in both PDF and video formats.
Can be used to plan and manage small-scale initiatives such as party leaders and large-scale enterprise projects.
Very easy to use and easily functional.
FastTrack Pacing
Developed by AEC Software; one of most strongly regarded project management tools available today is the FastTrack Schedule. The software is particularly effective when it comes to major projects with plenty of resources and a big team.
The most recent release is copy 10.2.
It's very easy to assemble your resources with the overview of the resources.
There are a number of resources, along with several report formats.
Small details and the larger images are covered equally;
It's easy to get tutorials, guides and customer support.
Developer
Projector is an automation software for the professional services (PSA). It was built to solve his firm's real business problem. Projector PSA was born in 2003, in order to offer its own remedy to other facing financial the same challenge.
Integrates certain host operating system features.
FastTrack Software Timing Features
Features Projector apps
Integrated apps: Projector seamlessly combines their project management platform with their project accounting, resource allocation, and advanced analytics modules.
End-to-end PM solution: Users will provide the structure and tools to effectively schedule, track and deliver the projects. It has advance planning and monitoring of tasks, flexible, detail financial planning;
Data can conveniently enter and retrieve.
Images with useful pieces of information can be allocate.
The project covers every aspect such as human and material resources, deadlines, milestones etc.
Simple to use, the interface is design in such a way as not to allow an expert to use it.
We can find Online support easily in official web site.
RationalPlan
RationalPlan is usable either as an on-premise or cloud service. It provides the packages Single Project, Multi-Project, and Project Server for on-premise project management.
It also provides Project Viewer which can be download free of charge and completes the software development package.
Attributes of the RationPlan app
Some of the great features of RationalPlan include:
Single- and multi project project management
Instruments for Collaboration and Communication
RationalPlan Benefits
Caters to teams, as well as project managers.
Caters to a wide range of industries including software, engineering, and construction.
Data can be edit at any level of the project. Based on the new data new reports are generate.
The characteristic is call the "what if" feature.
Enabled on all major platforms including Windows,Linux, Mac OS X.
Step by Step is a Tutorial
                Identify the best Mac project management tools to suit your needs
The demands of running projects differ. What's right for your company maynot be right for a specific business. The best approach to choosing the right project management software for Mac is to take careful account of your own needs.
What else to take a glance for in Mac Software for Project Management. There are plenty of choices, and it can be difficult to pick the best project management software.
It's crucial to be if it meets your needs. But project management wants can depend largely on your business type and cost, as well as their methodology for project management.
I have listed ten features here below that many project managers are looking for. When you decide that what project management tool to be using, you may find that several of these features are required:
Chart by Gantt: A Gantt chart is a bar chart that is commonly use to explain and monitor a project schedule in project management.
Some of the less available methods for managing projects (for example, Trello) do not offer Gantt charts.
Work Down structure break down: A system of job breakdown allows the project to move through smaller, more manageable activities. Those activities can then be individually arrange and monitor.
Scheduling Tasks: Project scheduling lets you schedule the smaller tasks that make up the whole project. Planning also include start and end dates, and even the resource to which the task is assign.
Tracking Task: When given a mission, it needs to be monitored. Tracking lets you know if a task is progressing according to plan.
Writing by Milestone: This high-level story teaches the executives and managers that goals are about to reach.
The Tools of partnership. Tools for partnership enable a team to share efforts or feelings on all or part of a study. Cooperation would also promote effective team contact.
Tie-in compensating: Budget plays a key role in project management so it can be a huge time saver to have project management tools that combines with your accounting software.
Notifications: Notifications. When a project falls behind schedule deadlines, several project management applications instantly submit updates to team leaders and project managers.
Conclusion
Know Any Good Software for Mac Project Management?
In business, project management tools are essential to ensure that work is properly organize, track, and complete.
Web-based PM tools offer many advantages, including centrally controlled real-time information across, functions, locations, and time zones for all members, give an effective, up-to-date idea of the entire progress of the project.
My personal favorite resources are mention above but I'm still having an interest in learning what their Mac-orient PM program uses for the community.
In the comments below, let me know what you think about our selection; or, drop a link to your favorite MacOS PM program and let me see why you love