Let face it, as the concept of Project management is somehow boring.
 So, to make it interesting go through this Articles of some sport metaphor analogies.
Find our Upcoming Batches of PMP® Certification Training Course :-
| Batch | Mode | Price | To Enrol |
| --- | --- | --- | --- |
| Starts Every Week | Live Virtual Classroom | 14900 | |
Use these basic sport analogies which help to deliver the key principles and best practices learn to work in projects which are followed or demanded by the project management offices.
If you expect to be a successful project manager you need to continue to learn. But if we only do this from a similar site, we 're limited to ourselves. I'll always say you've got to look a little wider. Project managers have a great deal to learn from sport.
Sport management involves any level of planning, organization, management, budgeting and reporting experience within the framework of an organization or business whose primary service or product is related to sport and physical activity.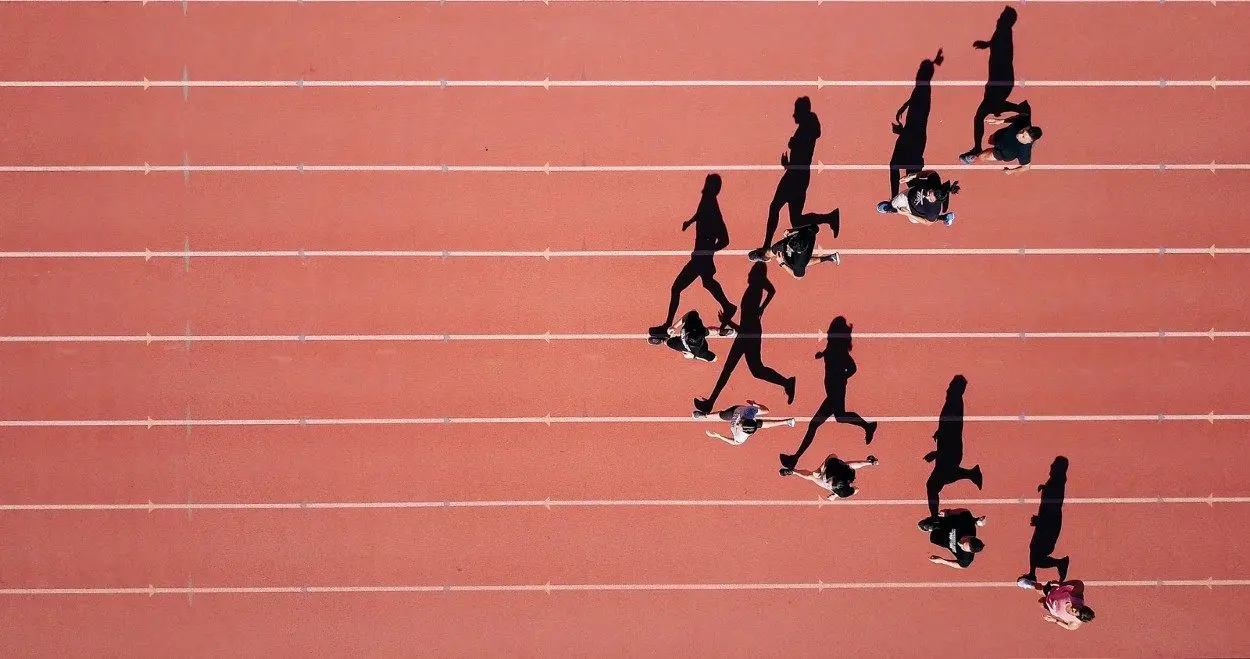 Such skills are practiced by sport executives in a variety of organizational environments such as:
College athletics
Professional sports
Recreational sports include Olympics
Athletic marketing and management firms
Sports broadcasting and media news firms
Sponsorship deals and advertisement firms
Sporting products firms
Parks, Stadiums and Community centers and many others
There are a few reasons why project managers can and should learn from the world's best athletic teams.
Enroll in our PMP Certification today and develop a strong foundation in the principles of project management.
I'll concentrate on those most important here:
1. The cornerstones of team performance are coordination, cooperation and self-discipline.
2. Perfection never exists-so don't slow down the search.
3. Success usually comes before failure – you succeed or you learn.
4. Be obsessed with taking better.
5. Accept what you cannot control, and concentrate on what you can do.
6. Simplify the game plan into person-manageable components.
7. Visualize success and understand how it looks like success.
8. Encourage various personalities-each has different abilities and roles to play.
And maybe most significant of all, particularly for micro managers, notice that: coaches didn't get out and play on the pitch.
Keeping things simple and useful, focus is on customer service and continuous improvement, and covering the sport ideas of team focus, team guidance, game rules, ground staff and, most importantly, project manager as starting quarterback.
You might ask what sports are about project management?
Well, quite a bit as you'll see, because where would we be without sports?
Without baseball … "K "will be just a single message!
Without football … nothing at all for September to look forward to!
Without basketball … the men of UCONN wouldn't be frightening…Women of UCONN wouldn't be more frightening!
Without hockey … there would have been no clean hits!
And without SPORTS …. project management is hard!
It is always a question of the Squad or Team
Let's continue with most sports at the core: The Squad
 A well-functioning team is important for success on most projects, just as in team sports.
It all begins with specific roles and duties, which is where certain common principles are misunderstood by other organisations. A function is not the same as an assignment or location. Roles are performed by professional staff members.
And sometimes the same individual fills different roles in a project team. A project manager with good technical skills, for example, can serve the aspect of business analysts, just like a project manager with good organizational skills can serve the role of project manager on a small job.
Larger, more complex initiatives of course still need a Project-certified project manager in the role!
Sport also revolves around the squad. Ever! Yes, even when it comes to boxing or any other sport with one person. Why? For what? Because never is athlete alone. He has coaches, partner training, medical support etc.
A good project manager should be focused on the team. Their growth, their ability to self-organization are keys to success. There is a saying: team failure is their manager's failure.
Become a trainer of your team. Teach them responsibility, commitment, and self-organization. Help them grow.Support them to become better at what they do. You can't fail on this. Their improvements can improve your life and work.
You have to get them inspired. Help them understand what the whole thing is about. When they're having a problem, you need to help them fix it.
Leadership for Great Team
The biggest misunderstanding about managing a project is that this role is about keeping everything on track. It is not true.
Every team needs to have a strong leader just like in sport. A leader leading the way, that's going to clarify what it all is about.
Every team will get better unless they have someone to support. Many efficient project managers are real project leaders. They are there for the team and are doing their best to support them. At the same time, they lead projects and teams.
Focus on long term Objectives
Who we love most about sports?
Wonderful comeback. When we witness such a return we ignore past matches, fights, lost tournaments.
So why should I comment on that? Since sport isn't "here and now" for in order to become a good athlete you need to focus on your future. Take on a true leader. Be the one upon which they may count. Build mutual confidence. That kind of relationship is beneficial to everyone.
On the goal that lies before you somewhere. Occasionally success only comes after years of hard work. You are not going to get anything fast.
The very first steps in setting up an effective team are specifying who does what, who is liable for what, and getting support from the team up front. The project manager will then become the leader in guiding the team through the stages of creating, storming, standardizing, and executing.
The very first steps in setting up an effective team are specifying who does what, who is liable for what, and getting support from the team up front. The project manager will then become the leader in guiding the team through the stages of creating, storming, standardizing, and executing.
When you're running a project focus on the target you've got to achieve. Why do you just do this? Why is the project? During project execution no one can remember problems if you deliver all on schedule and in the budget.
Of course, we benefit from previous or past achievements as well as failures. However, we are not characterized by a loss or performance. A project manager needs to focus on the project's future.
Like an athlete, in the future our potential is always someplace. To succeed, we will put a lot of work and effort into that. There is no shortcut.
Adaptation to Change
For years, or even decades, those moments are remembered. They 're making history. Nothing thanks to tailoring. Mike Tyson wrote:
Everybody has a strategy before they are slapped in the face
You should get yourself prepared for the launch. You can create the world's best budget and the best plan. Sport is incalculable. There are several variables that it's difficult to predict who'll win. We may have a favorite, of course, but this doesn't mean he'll win. The underdog wins are one of the most glorious stories in the history of sport.
You must have a vision and policy but you must also be prepared to adjust them if appropriate. You will sometimes be delivering the project without making any changes. But you'll have a plan sooner or later which will push you to make major changes. If you want to be successful you need to be prepared for it. This is going to be your cheek-punch … your name.
Great Lead Coaches, Manage Poor Coaches
When you manage the best teams, you need to be aware they know what they're doing. In fact, they likely know more than you, a lot of times. They are the star and you guide them. So why do these awesome athletes even need coaches to get started?
It certainly isn't to tell them outside of some adjustments here or there …How to pursue?
A good manager or coach knows their job is to purpose.
We take along a group of good teams and help them to work together well.
They are Challenging them.
Aid them in seeing the team 's vision or mission.
Make sure that people get their jobs done properly – making sure they show up for training, keeping them out of difficulties as best they can, etc.
Common vision and mission communicate effectively
A good coach allows everyone in the team to understand that for a common purpose they are there. They also help the team see how that mission and vision effects each individual. To figure out a common mission and vision with professional sports is pretty simple. Mission-to be the best team [in the blank sport here]. Vision ­ – confirming.
Plan and (but be flexible) implement
A good trainer never walks into a game without a strategy.
They have all considered:
Who they play that evening.
When they did against that team (and the players on that team) historically?
Will their players played lately?
How their players play against that team in the usual way?
Or maybe you'll even hear more crazy stats and tales than those I've just composed.
However, I confirm that while you hear these other trivial comments, the teams are not overwhelmed with them. When a coach prepares his team before a huge match, they look at the figures, but they look at the numbers which matter.
How many points will this team usually score on you?
The teams are going into those games completely prepared with the skills they need. A good leader understands this, and is using it for their benefit.
What is it you need to monitor?
How do you monitor these statistics and the statistics?
How do you convey such metrics to the relevant staff?
Finding the right stuff to track helps users achieve your objectives in a much easier way.
Go with the Flow
Managing sports is a fast-paced market. And when you're dealing with athlete teams there have always been issues you need your attention to. You need to be able to concentrate on what you are doing at the moment, but you do need to be able to turn to everything else quickly. You'll have to juggle lot of responsibility and be able to move flexibly from task to task.
You think time is Money
The main factor the sports industry is so huge and lucrative is because people have to work with the amount of time they get. Athletes and managers must manage their time efficiently to fit into practices, games, appearances, meetings, coaching and still have family time left over. A sports manager has set the foundation for the whole organization.
You set up systems
Organization is important because you have too many moving parts to work in a profession. Sports managers are on their plates with schedules, salaries, scouting reports, player files, media requests, operational reports, meetings, practices and so much more. You'll need a system to handle whatever comes your way. You may be using apps to manage time, space, and data.
You know that Communication goes in both Directions
People in positions of authority often feel unwilling to listen to others. But the sports managers can't expect one person to control a work environment. You are both an outstanding communicator as a boss, and an good listener. You keep the non-negotiables clear and when things are flexible you let the team know.
Your brain's a machine for analysis
Sports managers frequently find themselves in circumstances where the previous person in their role has in some way suffered. By thinking about the match in unique ideas you have to be willing to flip around a team's routines and objectives. You see processes, and use information to improve.
Strong managers look to the best for helpful hints on how to take their businesses to the makes clear they can go. The best tips can often come from those very places you 're already looking for: your favorite sports team. For sports fans, it's a great time of year-assuming you like sports apart from football.
I believe you can move up to a higher-level thanks here to an approach. What's more, you'll get a deeper insight into what you're doing. The open mind is an essential trait of all project managers. The worst thing that could happen in your comfort zone is the closure.
Conclusion:
Don't overlook your team. The management of a project is a team sport
Become a Chef. Don't be a Project Director
The goal is right next to you. Phases on them
Watch out and adapt. No scheme is foolproof
Recommended Reads:
Also Check this Video
Recommended videos for you