What is a TEFL course? Which online TEFL course should I take? Is it worthy for my career? What are the latest updates for 2020?
The mind boggles once you start considering the TEFL course (Teaching English as a Foreign Language) as a career choice for yourself. Teaching English, earning good money, and building an impressive career out of it, does not have to be a tiring task for you.
The entire process depends upon earning a reputed online TEFL course certification. However, searching and researching for a good online TEFL course could become overwhelming in a matter of seconds. We may not even know what to look for in an institute providing certification for a TEFL course.
A simple Google search and millions of results start pouring in at cruising speed. Soon enough we find ourselves dreading and fearing the very thing we dreamt of doing, TEACHING ENGLISH, and being certified.
While writing this article, I had the pleasure of talking to many prospective students looking online for a TEFL course. 10% of those students dropped out even before starting because the process of finding an online TEFL course became so overpowering for them.
Find our Upcoming Batches of TEFL Course :-
| Batch | Mode | Price | To Enrol |
| --- | --- | --- | --- |
| Starts Every Week | Live Virtual Classroom | 26500 | |
FEAR NOT! That is why I decided to write this article to clear all the nuances and outline various aspects to look for in a TEFL course.
Before we jump into the basis of choosing an online TEFL course, let us check out a few minute details about TEFL.
TEFL Course Certification And Its Variants
Teaching English as a Foreign Language or TEFL is teaching the English language to non-native speakers with different first languages.
An online TEFL course certification is an internationally recognized eligibility required for teaching English abroad. A few years back, TEFL certification may not have been crucial while applying for an English teaching job but today, it is central to your job application.
Let us Discuss Over the Variants of TEFL Course Certification –
TESOL – For practical purposes, TEFL and TESOL certification are used interchangeably and mean the same thing.
However, in technical terms, TEFL applies to teach English to non-native speakers in non-native English speaking countries like China, Vietnam, South Korea, and other such countries. While TESOL applies to teach English to non-native speakers in native English speaking countries.
Therefore, those who will work in countries, say, UK, Canada, Australia, Ireland, South Africa, New Zealand, and America will typically use the term TESOL and go for TESOL Certification.
TESL or Teaching ESL – TESL stands for Teaching English as a Second Language. Those who are teaching the English language in their own country to someone who is learning English as a second language need a TESL certification.
CELTA – Originally, CELTA as an acronym meant Certificate in English Language Teaching to Adults. However, now CELTA is changed to a Certificate in Teaching English to Speakers of Other Languages.
Barring a few minor technicalities, in practical terms, CELTA is a TEFL certification that is awarded by the University of Cambridge's non-profit assessment organization, Cambridge English Assessment.
Therefore, CELTA could be called a fancier version of TEFL as the cost for CELTA Certification runs very high in thousands of dollars. This is opposed to only hundreds of dollars for TEFL Certification.
DELTA – DELTA stands for Diploma in English Language Teaching to Adults. Again, it is awarded by the University of Cambridge's non-profit assessment organization, Cambridge English Assessment to only qualified teachers who have at least one year of experience under their belt.
AHH! SO SIMPLE!
There are other acronyms such as English Language Teaching (ELT), or EFL (English as a Foreign Language) used as well.
Nonetheless, as mentioned earlier for practical purposes they are usually used interchangeably, therefore, we will use the umbrella term 'TEFL certification' for all these variants. We do recommend verifying the specific certification required to work in the country your heart is set upon.
What Is The Significance Of The Certification?
TEFL Certification from an internationally recognized and accredited TEFL course is a prerequisite before starting with the TEFL jobs abroad in any country.
This is so that the language companies and academies, international schools and colleges, Ministries of Education of various countries, placement agencies, and online teaching portals who are looking to hire you to know that you are trained properly.
Moreover, it assures them that you are acquainted with all the nitty-gritty that comes along with teaching a second language and an expert in lesson planning and delivery.
This is your passport for cruising and VOILA! You will be ready to travel the world in no time.
Why Do You Need A TEFL Certification?
Well, any TEFL teacher will tell you that teaching English to students with different first languages is NO PIECE OF CAKE. The TEFL course certification prepares you for just that.
The key skills you learn during the online TEFL course along with practical experience of teaching make you and your application pop out in the crowd.
To mention a few –
Unique and innovative ideas to teach the students
Devising methodologies and techniques to teach grammatical concepts and lesson plans for foreign language learners.
Understanding learner's psychology and cultural background to better and effectively teach them without any bias.
Build up and boost your confidence to face a class of different age groups, genders, backgrounds, and intellect.
Create and apply out-of-box- strategies to grab students' attention and intensify their engagement with the language.
Using games, challenges, flashcards, etc. and generating new ideas to use in the classroom full of eager students.
You may be a well-experienced teacher or a brilliantly fluent English speaker or both. However, teaching English to pupils with different language backgrounds is altogether different.
You can only do this impressively with the tricks you learn in the online TEFL course you take. It teaches you all the valuable skills required to earn respect and acknowledgement in your field.
Who Needs The TEFL Course Certification?
It is a commonly required certification for new and experienced teachers alike. You may wonder if you are a native English speaker and have good proficiency in the language along with teaching experience, then why do you need the certification.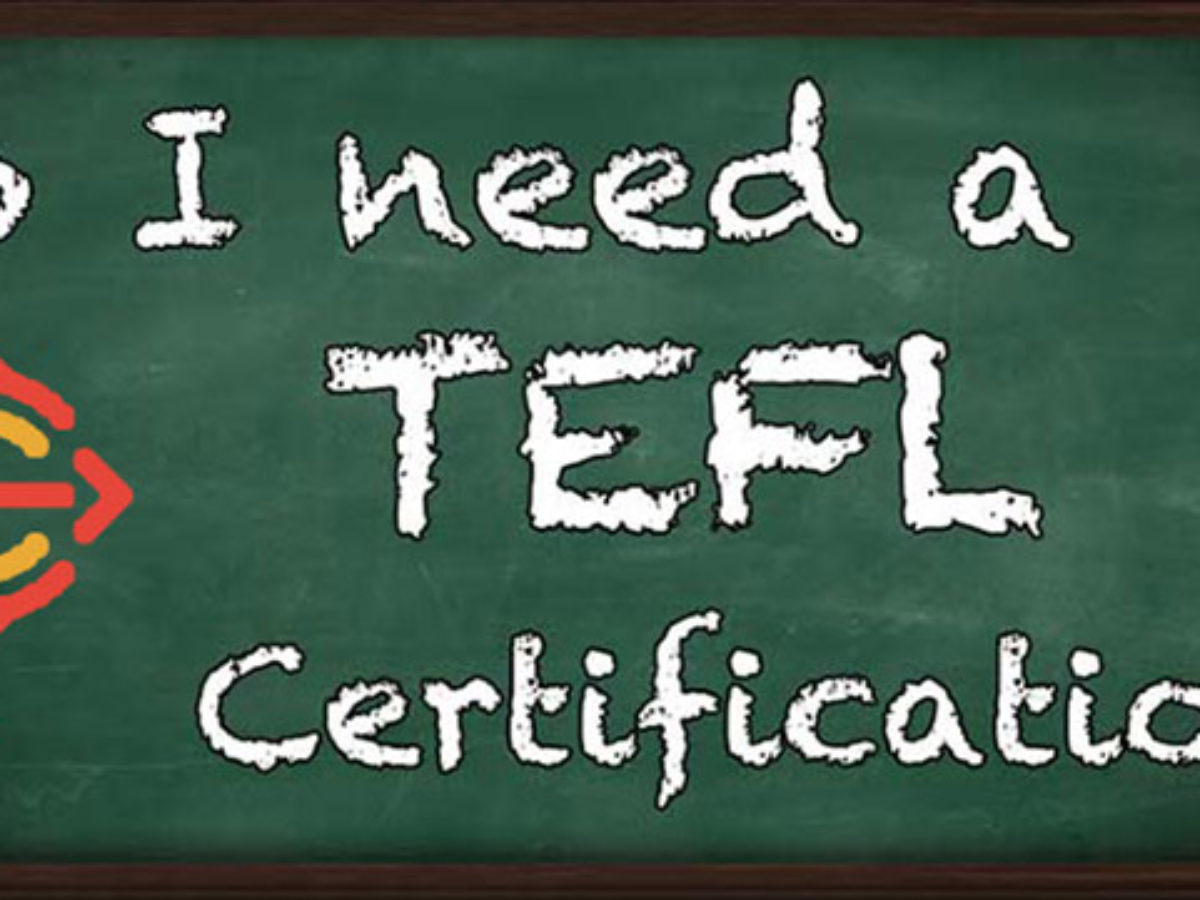 Well, first, the TEFL course certification is a globally recognized certificate that guarantees and assures the employers of your expertise without even meeting you. Your first impression on your employer is through the lens of your application where this comes in handy.
Second, TEFL employers may filter you out at the first stage of the application process without a TEFL certification, even if you are more experienced than many other applicants are.
Third, since it is globally recognized, it is a benchmark acceptable all over the world wherever you may wish to teach. Therefore, a certification that NEVER EXPIRES is necessary for teaching across 100+ countries and 7 continents.
Moreover, you can keep pinning new countries on your world map throughout your career with this Umbrella certification.
Need I go on further about the necessity of the TEFL course certification?
Now that a few details are clear about the online TEFL course, let us move on to –
Which TEFL Course Should I Take In 2020?
While selecting your online TEFL course, make sure to go through the entire list below to make an informed and reasonable choice. You should consider at least a few, if not all, of these before making a decision.
After reading the list, you will have a better understanding of your goals and interests. I hope that it will clear your mind about which specific course will be the right choice for you.
Key Points To Consider Before Choosing A TEFL Course
1. International Accreditation
Step 1 includes separating the real deals from the fraudsters. These imposters claiming to provide free online TEFL course or TEFL course at just $5 may not be legitimate. I can go to the lengths to say THEY ARE NOT LEGITIMATE.
An international third party does not accredit them. Without this reputable external validation, their certification is no more than a SCAM.
There is no one standard globally for TEFL course accreditation, so ordinary background check to confirm the accreditation from an international organization is a must.
For instance, the online TEFL course of HENRY HARVIN EDUCATION is accredited by the American Association of EFL (AAEFL), which is considered one of the highest degrees of accreditations recognized globally.
Hence, before even considering an institute for your online TEFL course, check the fine print, read reviews, talk to the alumni, check the accrediting body's website, and make absolutely certain that the TEFL course is internationally accredited and recognized.
2. Number Of Hours You Need And Want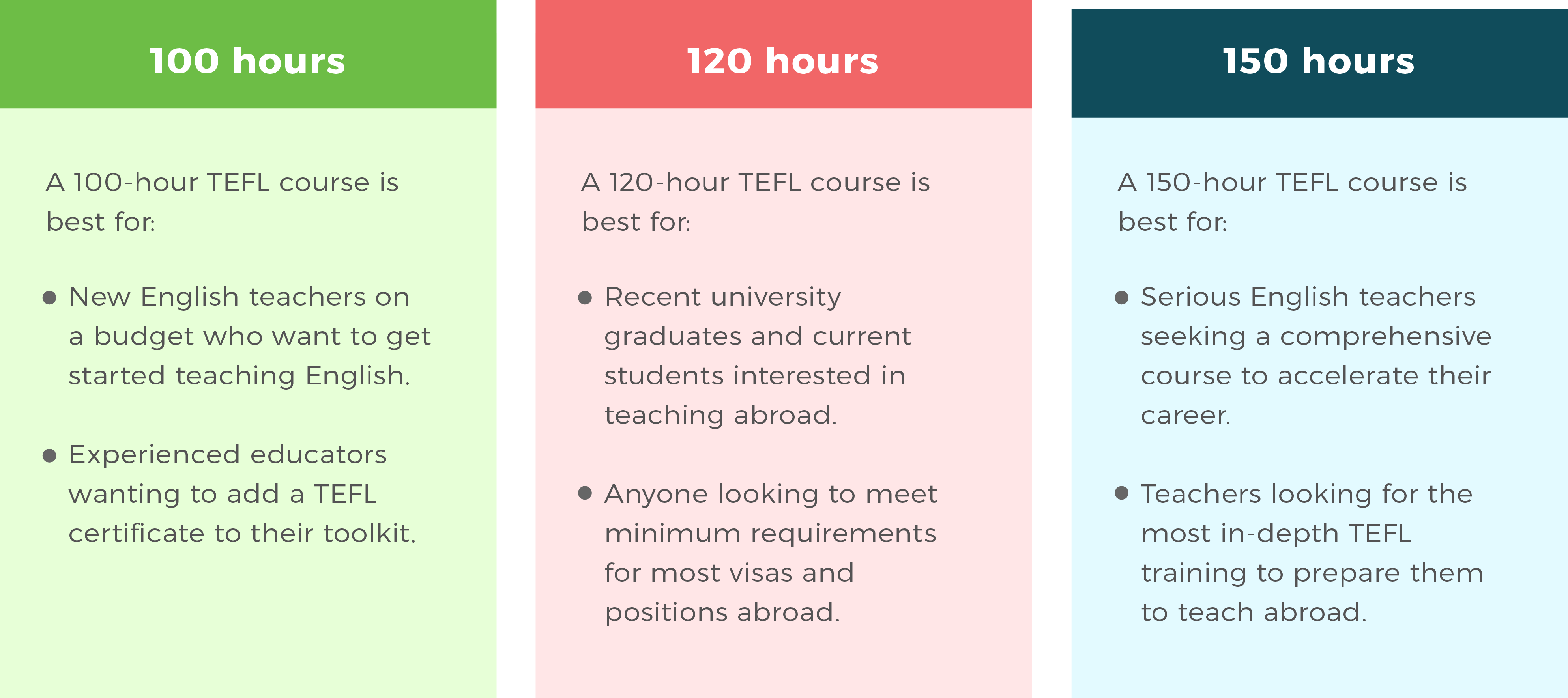 The next thing to know is the length of the course, i.e., the number of hours you need to put in for your study to start teaching students of all levels. Online TEFL course may start from 20 hours and up which may seem attractive because of the course's short duration.
However, do not fall for them. Any TEFL course certification with less than 100 hours will make your application fall in the trash faster than the apple falling on Newton's head. They are a total waste of money, time, and effort.
The TEFL industry standard of at least 120 contact hours is what you are looking for if you are serious about teaching English abroad with respectable pay. As you progress, you can start looking into 150 hours courses for advanced diplomas.
Also Check:
Top 15
TEFL Certification Online Free in 2021
3. Teaching Goals And Plans
If your reasons for joining TEFL are such as a career break of 6 months, gap year option before or after college, to be gainfully productive after retirement, or just teaching English for a limited time then you can opt for online TEFL courses starting from 100 hours onwards.
However, if you are planning to pursue a long term career with permanent goals then you can start with a standard foundational course of 120 hours. Build on it as you gain experience, and then go for specializing courses to boost your career further.
As you add more and more experience to your portfolio and have taught – in various countries hopping from one continent to another – to students with different cultural backgrounds, you can look into advanced courses.
They can help you boost your professional skills and expertise. By specializing in, say, teaching Business English or teaching young children and getting an advanced TEFL diploma, you may jump ahead of the pack.
4. Class Format – Online, In-Person, or Blended?
TEFL courses come in various formats. There are in-person classroom courses, online interactive courses, and blended courses that are a combination of both classroom and online courses. All these formats have the option of weekdays and weekend batches.
The important question to ask yourself is, how long will it take to be certified with each type of course and will it fit well within your timeframe and schedule?
In-Person classroom courses are for specific periods with fixed schedules, which can be a little expensive and intense. You may want to consider the location of the institute (is it near you, in some other country, or how many hours do you need to devote on travelling to your classroom). Also, your travelling expenses, taking a break from your schedule and other such things before making a selection.
Online TEFL courses are usually inexpensive, location and schedule flexible allowing you to learn anytime, anywhere at self-pace even while working. Moreover, the interactive virtual sessions with the trainers help you learn all the skills of an in-person classroom course such as feedback, real-life experiences, hands-on teaching practice of online TEFL jobs, and the technical expertise of the course.
The combination course is a blend of both the above courses, however, do not mistake them for the best of both worlds. More often than not, TEFL course providers may cut on the best features to provide you with an affordable course cheating you of your money.
Considering it is 2020 and we are knee-deep in technology, online courses can work wonders for you. Just make sure they have a practical teaching-learning component. An online TEFL course with at least a few hours of assessed teaching practice will be sufficient to coach you in teaching students in the country of your choice.
5. How Much Does It Cost? Your Budget?
With any investment, you need to make sure that it is cost-effective and value for your money.
Whom are we kidding? None of us wants our educational loans to keep piling up. Also, all of us want to get better options at low cost. Do you wish to spend your next 4 years earning repaying the loan you took for your TEFL course? I hope NO, a big NO.
As mentioned earlier, an in-person classroom course is usually more expensive than an online TEFL course.
If your class is abroad, you have to foot the bill of accommodations for approx. a month, flights cost, living expenses, and leaving your current job among others. While online classes are not just convenient and affordable but do not clash with your day job or other engagements.
You can prepare and tutor wherever and whenever 24/7.
A decent online TEFL course costs starting from 200 USD to 800 USD. You do want the best for your money before diving headfirst into the classroom.
Check out the number #1 ranked Henry Harvin's TEFL Certification course at just $300.
6. Is There A Particular Destination Where You Want To Teach?
The next thing you might want to consider is the specific location where you want to teach.
If you are not sure yet or love travelling and open to all opportunities, then you can start with the foundational course of 120 hours, gain some experience, and come back later to upgrade your certification.
However, if you do have your eyes set on a particular place, you should consider the market before starting with a course.
Generally, places such as Europe, the Middle East, and English speaking countries are exceedingly competitive for English teaching positions. While places such as Asia, Africa, and Latin America are less competitive.
The more competitive the destination you choose, the more credentials and specializations you will need to impress your employers.
7. Will My Course Land Me A TEFL Job In My Chosen Country?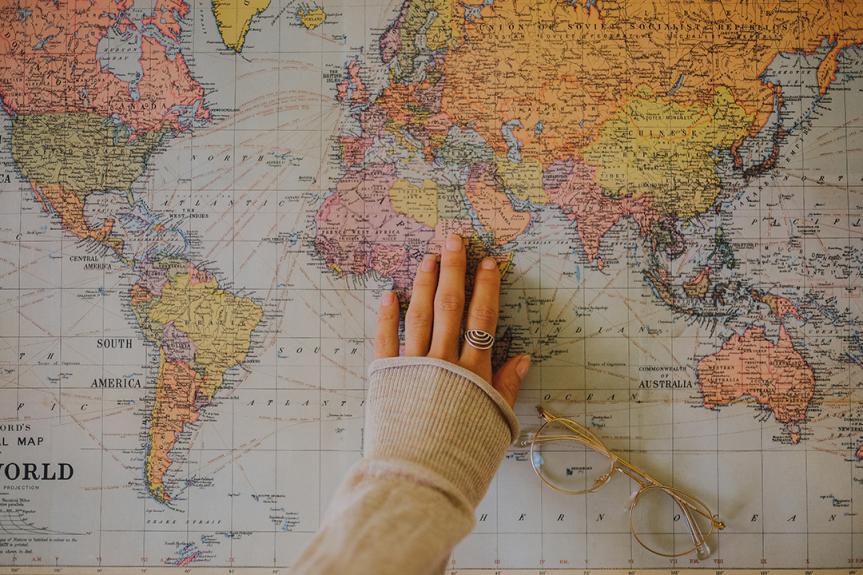 Another important thing to focus on is the job support and placement opportunities which are provided by the institute that you wish to join for the certification.
Ask a few questions regarding where the institute will place you, is the placement available in the country you wish to live in, or how many countries does the job support of the institute covers.
It is worth asking such questions, doing research, and looking for factors such as interview support. A good placement centre should be able to take you literally anywhere in the world.
For example, Henry Harvin's TEFL Certification course provides all these. Also providing opportunities from 12000+ jobs in 42 countries covering all 7 continents listed on our Job Centre.
This is a very important point to look at before choosing an online TEFL course.
8. Prior English Teaching Experience
Dividing this into two categories –
No teaching experience
Some teaching experience
If you have no experience, then start with a standard foundational course of 120 hours, which includes practical teaching components. This should comprise of either you practising to teach a lesson to a real class of students or observing English lessons taught by accomplished TEFL teachers.
Having done that, it will provide you with the toolkit of essentials you will need before facing the classroom. You can plan lessons well covering the structure of the English language, foreign language acquisition, phonetics, curriculum development, and class management (imagine a student acting up or dozing off, SCARY right!)
TEFL course will acclimatize and equip you to handle the best and the worst experiences of a classroom.
On the other hand, if you have some teaching experience, you are good to go! As a seasoned teacher, you can finish any foundational or specialized course (teaching Business English or teaching young children or teenagers) in no time. Reap the benefits of acquiring an edge over the others!
A Word of Caution!
However, do not think that you don't require the certification due to your experience. As mentioned earlier, TEFL employers may not even glance at your application and reject you at the first stage of the application process without a TEFL certification.
Conclusion
Teaching English online or abroad is a very rewarding career and valuable as well. It is an enriching job that opens up so many doors for you. However, choosing an online TEFL course shouldn't feel like a hurricane smashing into you.
This blog has outlined the key points you should consider before hopping over any wagon. We have done the legwork for you and put forth all the essentials you should look for in a TEFL course institute.
Also, if you are still unsure, you can read the Top 50 Best TEFL Certification Courses (Updated 2020). Here, we have a detailed summarization of the 50 institutes providing the TEFL course. We have ranked them starting from number 1 to 50 based on the criteria mentioned above.
Since no two candidates are the same, it is worth conducting some research for yourself. This will ensure the online TEFL course you choose is fit for you and offers all the fundamentals while enjoying a good reputation and accreditation. If need be, check out the reviews, talk to the alumni, and make sure you find the best of the best for yourself.
I believe you are an informed customer now who is knowledgeable enough to make a good choice and not be fooled by the fraudsters out there. There is nothing left to do but ask yourself this – do you feel passionate about teaching English?
If YES, then start packing your bags and embrace yourself for the beautiful places and people you are about to meet. But don't forget to take your certification for the TEFL course.
What are you waiting for, enrol today and get going!
Also Check this Video
Recommended Read:

–
What is TEFL Certification
–
Top 10 TEFL Certification Program in 2021
–
Top 5 Programs to Get Your TEFL Certification in South Africa

–
Top 50 Best TEFL Certification Courses

–
TEFL Vs. TESOL

Recommended Programs
120-hours TEFL / TESOL
Online Certification Course
Lifetime Access*
Ranked No. 1 Course | 100% interview guaranteed | Live Online Instructor-led TEFL Training & Certification | AAEFL Certified TEFL Course | Qualify for 12,000+ jobs from 6+ countries | With over 100,000 English teaching positions opening every year, immerse into the market of 2 Billion English learners today.
TEFL Certification Online
Course in USA
Lifetime Access*
Ranked No. 1 TEFL Certification Course in USA | 100% Interview Guaranteed | Online Certification course in USA | instructor-led training and certification program of TEFL | Qualify for 12000+ jobs from 6+ countries.
Post Graduate Program
in TEFL
Lifetime Access*
Ranked No. 1 Course | 100% interview guaranteed | Live Online Instructor-led Post Graduate TEFL Training & Certification | AAEFL Certified Post Graduate Program in TEFL | Qualify for 12,000+ jobs from 6+ countries | With over 100,000 English teaching positions opening every year, immerse into the market of 2 Billion English learners today.
Explore Popular Category
Recommended videos for you