If we discuss the Content Writer Interview Questions pattern, so we can observe these days content writers hired by different industries like educational, medical, technical, pharmacy, entertainment, and a lot more.
The level of the interview depends from organization to organization and the questions and rounds are based on the company you are interviewed for.
If a candidate is facing the interview of any leading MNC (Multinational Corporation) like Oracle, Accenture, Infosys, KPMG: assure that you need to face multiple rounds to be a part of such companies.
These organizations usually conduct 4-5 rounds of interviews which complete within 4-5 days.
Companies test the different sets of skills possessed by candidates like interest in writing, grammar knowledge, expertise in the domain, working experience, company knowledge, proofreading and above the communication skills.
They offer good packages so they need to select the best talent.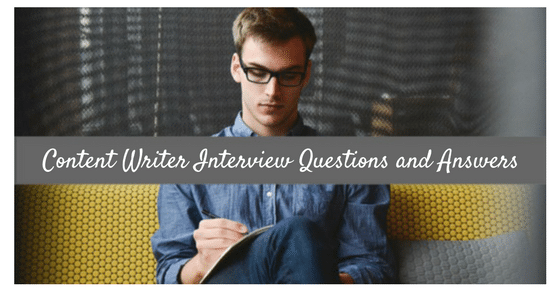 If it's an interview with a small company or any growing organization, set of questions and rounds are a bit easier.
Find our Upcoming Batches of Content Writing Course:-
| Batch | Mode | Price | To Enrol |
| --- | --- | --- | --- |
| Starts Every Week | Live Virtual Classroom | 17500 | |
They usually conduct 2-3 rounds of interviews within 2-3 days and declare the results on the spot or within a day all kinds of interviews are usually either face to face or by a telephonic call with HR of the company.
Content Writers need to prepare themselves with a strong introduction and resume. This is sector growing day by day so students can seek better opportunities with this by their writing skills and innovative mind.
Content writing is quite a popular career choice and an interesting job today. If you are planning to face Content Writer Interview Questions then you need to be perfect in answers to your questions raised by HR. Here is the list of questions and answers what u need to read before appearing for an interview.
These are the frequent set of Content Writer Interview Questions asked by the candidates.
1. How would you identify your target audience to achieve the goals?
The answer to this Content Writer Interview Questions: Target audience plays an important role in every field so it is necessary to identify them by understanding their preference, taste, and needs.
Along with that, I will review the data collected by the marketing and sales team, and discussion with an analyst can also be useful in this research.
2. What are the main components of good web content?
• Usefulness: Web content must be written properly by knowing ' what the reader wants' as well written content is one of the essential components of web content.
• Engagement: It is very significant to make an engaging read like content must comprise the proper content structure, proper headlines, images, videos and infographics to make it worth reading.
• Marketing objective: The objective of writing the content must be define so that the content meets the demands of the organization and particular product.
• Credibility: the information and the data being use in an article must be from a genuine source. Any kind of mistake or wrongdoing in this can have a terrible effect on an organization's management.
So, it is of prime importance to provide authentic information at every step.
3. How would you decide the topic to write on for an organization's growth?
The possible answer to this Content Writer Interview Questions: Deciding on a good topic is always challenging for content writers. It is important to do identification and analysis of various things which are mentioned below
• Identifying the audience and their needs.
• Research keywords.
• Analyzing conversation on social media.
• Doing competitors analysis.
By following all these steps, the content writer should try to write with their best efforts to have a long-lasting impact on readers.
4. What are the different types of content writing you know?
Answer: Well, there are different forms of content writing popular these days.
• Website content
• Copywriting
• Digital marketing content
• Blogging
• Branding content
• Technical content
5. What do you know about SEO writing?
These kinds of Content Writer Interview Questions should be answerd: SEO stands for search engine optimization and is one of the significant concepts today. It defines the process of creating and attractively optimizing the content with the primary goal of ranking on the top in search engines like Google.
There are various tips and techniques to follow while SEO writing as it's a specialized art. It uses different techniques than the other forms of writing like blogging and copywriting and needs to apply carefully to get listing on leading top engines.
6. How would you ensure the credibility of the content you will publish?
So, I would gather the data from genuine sources like journals, published researches, magazines and books which can help me to achieve the goals and meet the expectations of the company.
7. What do you know about the content management system?
Answer: I understand, as a content writer good writing skills and creativity are paramount.
I am well aware and familiar with content management systems like WordPress, Joomla as I have used these for various content management activities. Based on my experience, I find these very useful for writing.
8. How to examine the performance of content?
Answer: The definition of successful content differs from organization to organization. It varies depending upon the factors like target audience marketing strategies and objectives.
However, there are some ways to do analysis and judge the performance of online content
• Traffic: users like no. of visitors on the page and page views which means that no. of times visitors view your page.
• Engagement: how many have liked, commented and shared that page.
• Search engine optimization: how many people view that by searching on search engines
• Conversions: how many people are clicking the link and reading more
9. How do you manage the deadlines?
Managing deadlines In all organizations is always challenging. Punctuality in every aspect plays a vital role.
It doesn't matter how good and creative you are at writing, but completing the project and work within the stipulated time is extremely important. Indeed, the content writer should also be ready to meet emergency deadlines.
Answer: I m always careful and punctual in my work. I like to work regularly and systematically from the very first day.
Along with that, I believe in maintaining a proper schedule according to priorities to carry the work smoothly. In case of emergency, I never mind in rolling up my sleeves to work hard as this hard work can achieve the objectives set by the organization.
10. What is the way to use keywords in writing to impact the audience?
Answer: Keywords need to be effective while writing. A content writer needs to use the right keywords at the right place and in the right frequencies.
So, I keep in mind all the keywords bring used while writing and practice this from the sample to use it in the right way.
Apart from this, I also use the most popular tools for keywords research like Google AdWords, KWfinder.
11. How would you do social media marketing?
Social media marketing is one of the best ways these days to promote sales and convince the customer as this is use by a huge population.
Social media marketing via Facebook, Instagram, WhatsApp are especially very prominent in this technical era.
Answer: I will like to use social media marketing to promote business but in my point of view detail content on social media is not beneficial as people use it differently.
The content to be use here is different from content on websites, blogging and technical content. So, content here must be short, effective, eye-catching and informative to impact the readers.
Informal content and use of videos and images telling about the product will be more effective on such platforms.
12. How do you approach a new project?
Content writer interview always includes such questions to know about your writing content strategy. All want to hire a systematic worker who can plan and write in a proper sequence.
Answer: As I will be assigned a writing project, first I will conduct keywords research with different tools to use the right keywords and then decide the target audience and tone of the article.
After these basic steps, the point comes from the collection of authentic data and information. I would collect information from various sources like the internet, library books, movies, newspapers, documentaries and journals.
After this, I would start writing the article with my best efforts by using information and images. As my write up gets complete, I will run them through various checking software to make it worth it.
I will use Grammarly for grammar checking and then I will use plagiarism checking software like Copyscape to check plagiarism percentage. If both of these software give good results, then I will go further to submit the article.
13. What major difference do you find between a content and a copy?
Answer: A content is an article that is published in a general way and completely unbias. They do not directly promote the business or product of the firm but provide complete information.
A copy is different than this and directly related to the marketing concept and promotes the business and product in the best way. So, both are important for meeting the expectations of business and making long-lasting impacts.
14. What is the difference between an article and a blog?
Answer: The language and tone of an article are always formal and not personal. It is mainly for providing information and giving news. Blog, on the other hand, is informal and personal. Many people use blogs to express their opinions, experience and knowledge.
15. Explain the different types of writing?
Answer: Well, there are four types of writing
• Narrative style writing
• Persuasive style writing
• Descriptive style writing
• Expository style writing
16. What do you know about different genres?
Answer: There are different genres categories in my knowledge
• Newspapers
• Science fiction
• Mystery
• Thriller
• Detective
• Western
17. How do you carry with the proofreading process?
Answer: Proofreading is of prime importance while publishing content in different forms. There are various steps to be followed for the proofreading process
• Read the content loudly and carefully
• Focus on the keywords.
• Read the entire page twice and all the paragraphs.
• Check the spellings.
• Will focus on the content structure of the entire page.
• Keep the hard of the page to match with the soft copies content.
• Rectify grammatical errors.
18. Which format of writing do you prefer the most?
Answer: Every writer has his/ her preferences and interests. So different writers choose different styles of writing. I like to be creative and always keen to explore something new in my writing skills and prefer to write in a new format.
I follow the freestyle writing pattern. This is the most comfortable pattern to me along with all the components of the basic structure. So, I write in the pattern according to situations and target audience.
19. How do you make the content reader-friendly and distinguished?
Answer: Good content has many elements.
While writing up, we need to consider various factors by catering to the needs of the reader and writing in an impressive way. It must be engaging and useful for readers with proper information, images, and infographics.
20. How can the content be made SEO friendly?
Answer: Search Engine Optimization is a very important technique of content writing to rank the content on the top. So it can be made friends with various ways
• Plagiarism should be nil or below 10%
• No grammatical errors or any other mistakes.
• External and internal links must be embraced for engagement and increasing web traffic.
• Exact use of keywords and key phrases with the help of research tools.
• Content must cater to the needs of the reader.
21. How would you check the performance and response of the content u wrote?
Answer: Checking the performance and response is extremely important in this regard. So, I will check my content response through various ways like Facebook, Instagram, Twitter, and Google analytics.
• Facebook can show me the users who have liked and shared my article. This is the right way to check the interests and choice of people and own performance.
• Analytics can be helpful to inspect the number of page views.
• Twitter account to see the tweets who cite this post.
• Search engine by writing my keywords can tell whether my published content is on the top or not.
• Instagram page can also depict results.
Here, we can see that content writer interview demands such questions and answers must be given properly and honestly.
 There are more questions whose probability us also the same to be asked which we shall discuss before heading for a job interview.
The above-mentioned topics and questions are a significant part of the content writing job, so they must be prepared well and presented beautifully while facing Content Writer Interview Questions.

Now, we will discuss some other basic and common Content Writer Interview Questions mostly asked.
1. Tell me something about yourself/ Introduce yourself?
Answer: This is one of the most common interview questions raised. This must be answered carefully and honestly. This is generally asked to know about you but not about your details.
Many candidates hesitate while telling this answer rather than telling their details of work and professional life.
 Nothing to be afraid in this regard. You can always tell your answers by beginning with name, hometown and then qualifications especially your graduation and school life, hobbies and then move towards your work experience and professional life.
This is the way you should cover the answer. If an interviewer asks you some family details then you can answer otherwise it's not mandatory.
2. What is your strength and weakness?
OR
What are your strong and weak points?
Answer: This question needs to be answered with proper attention as it's quite a relevant question to convey a good impression from starting.
Strong points you can tell like discipline, punctuality, innovation and creativity, organic SEO writing, consistency, teamwork, coordination.
The weak points need to answer in such a manner that they seem like your strong ones or you can tell them there are a few areas in which you need improvement.
You can start this by quoting ' I have some areas of improvement like exploring new things and new writing formats is always my desire but couldn't do successfully yet'. So, this answer must be handled carefully.
3. What was your role in your previous company?
Answer: This is the question raised in a content writer interview from those who have content writer experience with them. If you have written on different topics and formats then can add that as an experienced holder of such practices.
Apart from the writing part, you can also specify other responsibilities like collecting authentic data, proofreading, keywords search, URL suggestions, title tags, content selection and other related terms you can add.
4. Do you have examples of your previous work?
Answer: This question is asked to check the status of your work. We must keep handy all the records of our past work and write-ups in the form of articles, blogs, SEO writing, proofreading and so on.
Posting articles on various topics like technology, travel and tourism, food, education on varied sites like Hubpages, Buskia can work out to be very effective while answering these Content Writer Interview Questions.
5. Why did you choose content writing field / What motivated you to become a writer?
Answer: This is an interesting question for all candidates and pretty easy to answer. U can answer it in this way, ' I have had a keen interest in writing since my childhood and always want to explore more and more about writing skills and format to be unique.
 I got motivated towards this when I won the writing competition thrice in my school days. Writing good content is my passion.
6. Where do you see yourself in the coming 5 years?
Answer: This question is futuristic. One can answer according to his way and thinking power.
The answer which can impact listeners can be, ' I see myself a successful and recognized content writer with deep experience in a leading company who can write excellent content and help it to rank on the top in search engines.
7. Do you read books, what kind of books catch your attention?
Answer: Being a content writer, you must show your interest in reading books of popular writers and other categories.
Your answer should be, ' I love reading books based on different topics but I love reading about traveling blogs and books giving information about popular traveling and tourist spots as I love to explore. Apart from this, I have a great interest in reading novels based on real stories.
8. Why do you want to leave your current job and switch to new?
Answer: Be well prepared to answer this. I want to switch to get better opportunities in terms of packages, learning aspects and brand name of the company.
9. How would you promote the content once it gets published?
Answer: Every company whether big, small, growing or start-ups always want their content to be promoted and responded well. Indeed, all want their employee to be an ideal candidate who is multi-talented and knows the other basic areas of interest.
The following can be a good answer to this question :
• Sharing content through social media platforms like Facebook, Instagram, Twitter, and others.
• Reaching out to online influencers for promotion.
• Using other multiple channels to do marketing.
10. How many articles you can write comfortably per week?
Answer: It depends upon the capacity of the individual and word count of articles. One should not lie while telling this simply to impress an interviewer.
Articles written in 500 words per week are equal to 1 article of 2000 words. So, u can tell exactly according to your skills, interests and capability to handle the work assigned.
11. What do you mean by white paper?
Answer: White paper is an authoritative document and report intended to inform proper to the reader and organization about technical information. It conveys the complex terms into simpler ones that can be easily understood.
The frequency to write it depends upon the work of the organization. It explains how the technology works systematically.
12. What kind of format is used for sending information within an organization?
Answer: It is necessary to send information and communicate well inside an organization so, we generally use memos to send information and other communication purposes.
13. How can you contribute to our organization to grow?
Answer: This question is raised to know about the potential of candidates. One must answer by thinking it twice.
A possible answer to this: ' I always meet my deadlines and convey the information at the right time. I follow an approach that is simple and easy to comprehend.
Along with that, I m always interested to come up with my creative skills.
14. How will you manage feedback and criticism in the working environment?
Answer: The purpose of this question is to test and know about your behavioral traits and patience.
You should be confident that you write and publish the best content from your side, but, you are not stubborn to make changes. You must be flexible while these situations occur.
Possible answer: I understand that making errors is human nature.
Indeed, I make mistakes sometimes in understanding the expectations or the company's briefings and information, but in such cases, I would always have to coordinate with my team members and follow suggestions by seniors to avoid mistakes in the future.
15. Do you prefer working in a team or independently?
Answer: This can be answered according to your experience and personal choice. Usually, a fresher in this field would feel better to work in a team where we can easily learn from others and discuss things.
An experienced person may prefer working independently as overtime one becomes a quick learner.
So, here we can conclude that content writer interview questions from a personal perspective, course-related and others are discussed entirely. These all form of questions are common and important in content writer interview from all organizational point of view.
Conclusion:
We can conclude that content writing is a prominent industry these days, it requires the writer to be consistent, engaging, and qualitative to produce the content.
All these factors are significant to determine the growth and success of the business. The search Engine Optimization (SEO) technique is that important part of writing which impacts the targeted audience.
Content writing is the foundation of digital marketing. For the purpose of Content Writer Interview Questions.
It is suggested to prepare according to the above-mentioned questions and topics.In this guide, we have covered many common interview questions that are likely to be asked when searching for content writer job.
All the questions related to your past and current writing profile and the written test are the crucial parts in determining candidate's interview success and compensation package.
So, it is very necessary to impress the interviewer with your words answers and writing style. One must be honest and truthful while telling about past experiences and updated knowledge.
We hope that this documentation will assist and guide you for heading interview of a content writer without any hurdles and obstacles if you prepare well according to these specified questions.
These interviews questions are relevant for freshers as well as experienced candidates in different organizations.
We wish you good luck to be confident and keep your spirits high while you face Content Writer Interview Questions.
Recommended Reads
Recommended Programs
Content Writing Course
with Gold Membership
Lifetime Access*
*Learn from South Asia's Oldest Content Writing Course | Recognized by American Association of EFL, Content Writing Association of India, UK Cert, UKAF & MSME | Guaranteed Live Projects & Internship Opportunity.
Technical Writing Course
with Gold Membership
Lifetime Access*
*A cutting-edge Technical Writing Course which teaches you the fine art of transforming data and information accumulated through a process or experimental work into technical documentations and guides.
Creative Writing Courses
with Gold Membership
Lifetime Access*
Henry Harvin® Creative Writing Course Ranks#1 in India by The Statesman! Creative Master the creative writing skills to compose engaging Fiction, Creative Nonfiction, Drama, and Poetry that will snap a reader's curiosity from the advent to end of your write-up.
Medical Writing Training
Course and Certificate
Lifetime Access*
A one-of-a-kind Medical Writing course which helps you get a thorough understanding of pharmaceutical regulatory writing as well as medico-marketing writing. Strengthen your writing prowess as you boost your skills as a medical and scientific writer. The Certified Medical Writer(CMW) certification is your key to success.
Explore Popular Category
Recommended videos for you