The number of people who use social media has increased to 4.9 billion people around the world. It is further expected to increase to 5.85 billion people by the year 2027. Keeping this in mind, it is essential to know an aspect of digital marketing course that is social media optimization (SEO).
In digital marketing, Social media optimization is a branch that, in simple terms, involves creating content on a social media page and informing product lovers about new product launches and discounts. The followers of this social media page will eventually be directed to the official website of the product.
Find our Upcoming Batches of Digital Marketing Course :-
| Batch | Mode | Price | To Enrol |
| --- | --- | --- | --- |
| Starts Every Week | Live Virtual Classroom | 15000 | |
The advantage Here is a social media page with content that will attract potential customers and direct them to the website. Unlike competing for space in the search results, as in search engine optimization (SEO), here there is less or no competition.
Methods
1. Content Method
The content posted on social media should be engaging and filled with emotion. However, it should not go away from the truth. To start with, let's take "Bourvita Healthy Drink" as an example. We are aware it is not a healthy drink; instead, "Millet Laddu," a healthy snack, is a better choice. It is also important to note that the content should be unique and engaging; if not, there is a high chance of losing potential customers.
2. Following a schedule
It is important to follow a schedule in our daily routine and in our social media postings as well; it is an essential aspect of social media optimization. Whether it is weekly, daily, or weekend, your potential customers will follow your content if it is posted regularly.
Now that your schedule is day after day, let's say your customer is awaiting your post on Wednesday, but you fail to post. So he or she may decide not to wait for your post on Friday, and eventually, your competitor, who is regular in posting, will get the customer.
3. Statistics of Social Media
Numbers are often used to know the traffic to a particular social media site; without keeping this in mind, everything is in vain. The two things on which you have to concentrate are traffic and engagement. Different social media platforms assess engagement in different ways For example, Metaverse assesses Post Shares, reactions, saves, and comments. It is important to see the metrics before posting particular content on a particular site.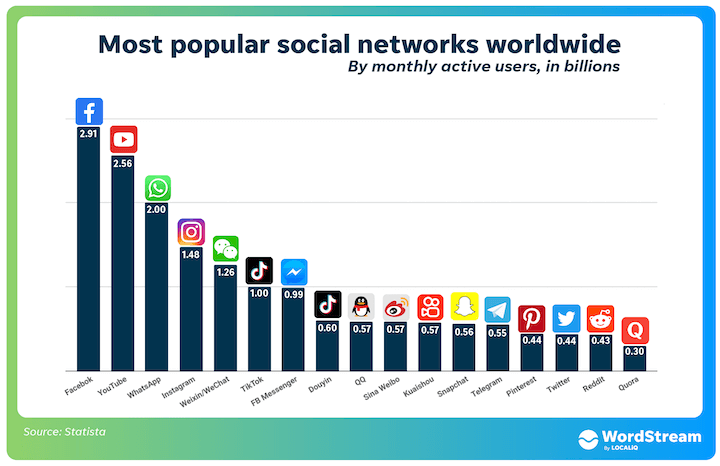 4. Images
A picture speaks a thousand words, so isn't it better to add an image keeping that in mind? 'Too much of anything is poisonous', including too much text. Graphics and visuals not only attract kids but adults too. Search engine optimization is interlinked with social media optimization (SMO). To rank our posts better in searches, images are a must. As the concentration level of humans is decreasing, we must indeed hold their attention, and the best method is to use images, videos, and graphics wherever necessary. It is important to keep in mind to use it where it is necessary and not for the sake of using it.
5. Optimizing your profile
Profile optimization entails keeping your profile up-to-date with the necessary information. This is an important aspect of social media optimization.
Logo of the company: In place of the profile picture, add the company logo. This creates trust on the user's side and also looks attractive. If this is blank, a space will be highlighted, which fails to attract customers.
Username: without this section, it is impossible to get customers as they don't know who is posting; the human touch is erased. This will make the users think it's a fake profile or a scam.
Bio: Describing Your company's product with relevant keywords is necessary, as no one is going to come to your website just because you have given them a link. Adding a bio will give the reader a glimpse of what your website may contain.
6. Headlines
Add a unique Headline or a Headline that captures the eyes of the reader. work hard to create an attractive background, and make sure the Headlines are not repetitive. In this way, you can create different Headlines for different Social media sites. Before adding a unique headline, you must remember whether this headline has good search engine optimization (SEO). As this has an indirect connection with social media optimization.
7. Related Hashtags
Adding Hashtags does optimize your profile; you can search various companies' profiles as each has unique hashtags. Unlike profile names, where a lot of results overlap partially with each other, if you want Harshith Pandey, other profiles will appear that have Pandey as the surname. This method is also useful when you need broader search results.
8. Keyword Research
Though we are talking about social media optimization, we shouldn't forget about search engine optimization, as the former is dependent on the latter. Before choosing a keyword, it is advised to use various SEO platforms and note down the traffic for each keyword and the traffic for the same keyword on different platforms, then choose the keyword wisely.
9. Influencers
It is important to hire social media marketing professionals, but it is also necessary to connect with existing Influencers. obviously, these connections will aid us in learning the lessons they learned and give us access to our initial customers.
10. Videos
Videos explain features, discounts, and other information in an easy way. Animated videos do the task of explaining. It explains every intricate detail about the product Consider the smartphone as an example. The insertion of a memory card and SIM could only be explained by using a video. Moreover, videos play a greater role in social media optimization because everyone is attracted to them.
11. Integrate
Your social media page must be linked with your website and other social media platforms. The best way to do this is to provide an invite link in the top-right corner of the page. This not only links but also gets a good results in SEO.
12. Participate in social media conversations
Celebrities, and influencers, host live Q&A sessions to better understand the audience's needs. This is an excellent way as it ensures instant communication and hence builds trust on the part of users. This is a time-consuming process but the best method in social media optimization as it answers questions instantly unlike the chat box.
Henry Harvin digital marketing Course
| | | | |
| --- | --- | --- | --- |
| Batch  | Mode | Price  | To enroll |
| Starts every week | Virtual mode | 17 500 | click here |
Why Henry Harvin?
1. Recognised for its quality by the top-most publishers like Hindustan Times, Business World, Statesman, etc.,
2. Affiliated and accredited by AAEFL, AAPC, Asian International University, MSME, Startup India, and more.
3. Awarded as the best corporate training program by Entrepreneur Education Innovation.
4. Additionally, the learners gain access to job support for its excellent networking.
Recommended Reads
Conclusion
Social media optimization is the new form of search engine optimization, and although the former is dependent on the latter, it has quite a few advantages. In SMO, every unique page is for the promotion of company products. This has all the details, ranging from text to visuals, and since it is a separate page, it has less conflict with more details. Thus increasing the chances of reaching the Audience and making it a great tool to learn as the number of social media users is increasing.
check out this video
Video URL: Best Digital Marketing Course Tutorial For Beginners | Online PG Digital Marketing Course Training – YouTube
FAQ's
Q 1. What is social media optimization?
Ans. A business sets up a social media page on various social media platforms with the intention of generating traffic to the website and converting it into customers.
Q 2. Where can I learn about social media optimization?
Ans. Social media optimization comes under the branch of digital marketing, also known as social media optimization in digital marketing. Enrolling yourself in a digital marketing course will teach you a lot about social media optimization.
Q 3. What is the cost of a digital marketing course?
Ans. It costs 17500 rupees, and the course runs for a duration of two months.
Q 4. What is the eligibility requirement to take a digital marketing course?
Ans. You should have a basic understanding of marketing and computers to enroll in the course.
Q 5. What career do I have after completing a digital marketing course?
Ans. SEO specialist, Social media marketing specialist, Email marketing specialist, content specialist, and  Digital marketing specialist