Introduction
Summer is a time when everyone's at peace, they feel relaxed and refreshed. Most high school students want to spend their summer with their friends, going on a vacation, going to beaches, etc.
Apart from the fun we have in the summer, it is also important that we study or do something productive. We can do this by participating in competitions, internships, summer programs, working with NGO's, etc.
Find our Upcoming Batches of Teen MBA: Online Course :-
| Batch | Mode | Price | |
| --- | --- | --- | --- |
| Starts Every Week | Live Virtual Classroom | INR 15999 | |
If you are interested in knowing more about summer schools, then u have you landed on the correct website.
Top 10 Summer Schools in Spain
Here is a list of some of the most renowned and exciting summer courses in Spain.
1.Henry Harvin Summer School Academy
Are you set to take up the challenges? Are you ready to eradicate negativity from your mind? If yes, then move your step and explore the world of opportunities with Henry Harvin. It is a good opportunity for teenagers to become competent. Henry Harvin provides a strategic summer for teenagers to explore a new world of career.
Teenagers have incredible potential to do something creative in their life. However, they need proper guidance to expedite their skills. Henry Harvin provides you the best way of learning and enlightens you with the knowledge.It offers you the best platform so that nothing can impede your career.
Henry Harvin offers various courses to brighten your future.
1. Teen MBA Course:  
Henry Harvin offers the Teen MBA Course to get you ready for a higher level of business education. You can see the real world of business and solve critical business problems. Isn't it interesting that you have to analyze the hands-on business situation and build up analytical skills?
 Following specializations are offered in particular areas–
Henry Harvin welcomes you to become a proactive teen CEO and evolve your business prowess. You can imbibe qualities of time management and decision-making skills.
You explore the world of finance and can devise different financial strategies by becoming a teen CFO.
Experiential learning can help you to specialize in technology and become a potent teen CTO.
Analyzing and executing various marketing strategies can help you to become a competent teen CMO.
Henry Harvin suggests you not to delay and make a firm decision; nothing can stop you from fulfilling your dreams. Only ceaseless efforts can help to boost up your energy. 
Endeavor with the right instructors and advent bright upcoming.
2. Content Writing Course:
 Henry Harvin offers this course to give you tips on advanced writing prowess. The Content Writing Course offers internship and training programs to make you compatible with the progressive world of writing. Mentors put in a lot of effort for the learners. So be an eternal writer and hurry up to enrol with Henry Harvin.
3. Technical Writing Course:
Technical writers have to be engrossed in the practical world. You can thrive in this field because instructors give you all possible ways to write effectively. Technical writing course accomplishment can give you a way to enter into the practical world.
4. Medical Writing Course:
Medical Writing course is an emerging field in the progressive world. Henry Harvin infuses scientific attitude in learners to comprehend medical writing. You can be a certified medical writer after ceaseless effort and understand medico-writing.
Digital Marketing Course:
It helps you become an accomplished marketing officer and understand the digital world. You can evolve strategies to generate web traffic. The Digital Marketing Course is the best for the learners with which they explore the marketing segment. 
Henry Harvin also provide these Courses
Business Accounting and Taxation course
Also Check the Review of Henry Harvin Summer Internship Program
2. Summer Course in Design Thinking for Business Transformation
Description: This is course is taught by professionals in design business. This course includes the study of concepts like problem solving, creativity, co-creation and customer value as these hold a great importance in any business strategy. The course intends to provide a good learning experience for the students.
Location: The Instituto Europeo di Design, Barcelona, Spain
Duration: 1 week
Fees: EUR 1,250
3. Economy: Cinema, Tourism, and Development
Description: This program emphasises on applied economy and marketing research. This program teaches economics using cinema. Each module is based on a show that was shot in Almería. Module 1 is based on Asterix in the Olimpic Games by José Luis Ruiz. Module 2 is based on Indiana Jones and the Last Crusade by Bruno Nievas. There are 6 modules in total. There methods of teaching include role playing, case studies and various other activities.
Location: University of Almería, Spain
Duration: 2 weeks
Fees: EUR 900
4. Barcelona CREI Macroeconomics Summer School
Description: The students are taught by famous specialist in this field. This course covers major development of macroeconomics in all spheres. They teach about the growth of economies, international finance and trade, fiscal and monetary policy, forecasting, etc.
Location: Barcelona Graduate School of Economics, Spain
Duration: 3 weeks
Fees: EUR 1,150
https://www.summerschoolsineurope.eu/course/6662/crei-macroeconomics
5. Summer School Course in Digital Strategy and Social Media
Description: The methodology for this course includes lectures by famous professors in this field, case studies, practical activities, project presentation, etc. The main objective of this course in to make students understand different digital and social media strategies, so that they can apply them to different brands and institutions. Students are also taught how to use necessary tools to build a brand in the social media platform.
Location: Istituto Europeo di Design Madrid, Spain
Duration: 3 weeks
Fees: EUR 3,100
6. Fashion Styling Summer Course
Description: A fashion stylist is a person who picks out clothes, jewellery, make up, etc for someone else. Students study about different types of trends, how to publicize the outings of styling in fashion, styling on television, etc.
location: Istituto Europeo di Design Madrid, Spain
Duration: 3 weeks
Fees: EUR 3,100
Course
7. Formative Soccer Expert
 Description: This program is for young soccer players who wish to become better at this particular sport. Students get an opportunity to learn and interact with professionals and top coaches. They are trained about contents of the egocentric stage, contents of the summative stage. They have special training called MBP training method.
Location: The Master for football coaches in Barcelona, Spain
Duration: 5 weeks
https://www.academiccourses.com/Formative-Soccer-Expert/Spain/MBP/
8. Summer Course in Fashion Product Management
Description: a fashion product manager is responsible for making plans on how to sell the product and execute it in the market for sale. This course provides the best tools for developing strategic and new methods to learn fashion management. Their methodology is to give theoretical lectures, experimental classes, projects and assignments, etc. The students are even given a chance to interact, meet and question the professionals of the field.
Location: The Instituto Europeo di Design, Barcelona, Spain
Duration: 2 weeks
Fees: EUR 1,850
Course
9. Business Summer School
Description: . Business indicates to run any commercial activity that involves trade of services or products to generate and rotate money. By understanding this we get a clear idea that one should be specific about what business he or she is intended to do. This program is a two-to-eight week program that helps students to understand the latest trends in worldwide business. This course is organised by one of the top business schools in Europe.
Location: EU Business School, Barcelona, Spain
Duration: 2-8 weeks
Fees: Two weeks: EUR 1.900, Four weeks: EUR 3.400, Six weeks: EUR 4.700, Eight weeks: EUR 6.300
https://barcelona.euruni.edu/programs/business-summer-school
10. Barcelona Data Science Summer School
Description: The students are offered two courses; week 1- The data science toolbox and machine learning; week 2- Machine learning in social sciences; week 3 – Computing for data science. This program is for young minds who have an interest in machines.
Locations: Barcelona Graduate School of Economics, Spain
Duration: 5-10 days
Fees: EUR 1,200-1,300
https://www.barcelonagse.eu/study/summer-school/data-science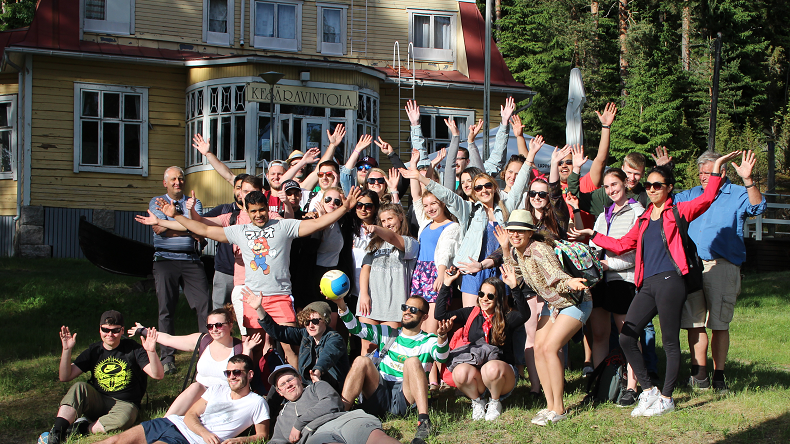 What are the summer programs?
A summer program is a form of education that provides academic and non -academic courses/programs. They are commonly held at a college or a university and the program is either sponsored by that college or another college. There are numerous courses offered by different colleges, from which students can choose from.
What are the advantages of attending summer programs?
A summer school helps you to add texture to your college or university applications. Certificates from these courses upgrade your application and puts you a step ahead from other students.
If you attend a summer schools in another country then you get a chance to explore the city, and it's culture. You get to learn about the traditions of the place.
A summer program is a very interactive environment. You make new friends, interact with famous professors, etc. It is a very fun experience all together.
Attending a summer school makes one independent, as when u attend a summer program you don't have your parents or family along with you to do your work. When you start doing everything on your own, you become independent, which helps you in your life.
Conclusion
In the end, I would say that attending a summer program is not only about receiving a certificate at the end of the course, but it is also about the experience as a whole. The new friends we make, the amazing professors we meet and the fun we have. The sole purpose for each student should be to extract the value of every single penny they spend and gain the maximum and best experience.
So I believe that it is good to utilise some time from our summer that will help us get into our favourite college isn't it?
Recommended Reads
Junior MBA Course: Understanding The Importance
Junior MBA: A New Stepping Stone
Junior MBA Course: Complete Understanding
Recommended Programs
Summer Internship
Program '21 - Analytics
Lifetime Access*
A comprehensive 2-month long industry-oriented training & internship program aims to help undergrads, grads, executive professionals to get started with the field of Analytics & Data Science and gain industrial experience.
Teen MBA: Online Summer
Program for Teenagers
Lifetime Access*
Certified Business Analytics Practitioner (CBAP) course is a focused 32-hours instructor-led training and certification program that equips participants to explore+analyze+solve business problems using popular analytics tools such as R & Advanced Excel.
Explore Popular Category
Recommended videos for you